Details
Go Back
The North Carolina East Division of the Fishers of Men Team Series held their fifth scheduled tournament of 2019 season this past Saturday, July 20, 2019 on the Yoepium River. Twenty boats launched from the Bethel Fishing Center in search of the winning five fish limit. The teams launched with a beautiful sunrise to greet them as they ran to their favorite spot. The weather was HOT with temperatures in the upper 80's at sunrise with temperatures expected to be close to 100 degrees for the day. Praise God for a southwesterly breeze that provided a little relief from the heat!!
Our Friday night meeting was hosted by the Bethel Fire Department. The meal was prepared by Topside Catering that included roast pork loin in gravy, mashed potatoes, corn and lima beans, dinner rolls and plenty of delicious deserts prepared by the Jackie Berry Circle Women's Group. Our Division Chaplain Marty Cunningham delivered a great message that reminded us of Gods mercy and grace. The scripture for this evening's message was Mark 10 vs 46-52. The Pastor spoke about Bartimaeus receiving his sight as he was sitting by the roadside begging. There was a large crowd when Jesus heard Bartimaeus shout "Jesus, Son of David have mercy on me! "Many rebuked him but Jesus stopped and called him and asked him what he wanted. The blind man said he wanted to see and Jesus, having mercy on him said" Go, your faith has healed you". He immediately received his sight and followed Jesus along the road. When we are facing difficult times, don't let anyone stop you from calling out to Jesus; be persistent in calling and seeking. It's his Amazing Grace that enables you to live.
The southwesterly breeze was favorable for teams to run to most of the rivers on the Albemarle Sound to find that winning catch. 20 teams brought 84 Bass to the scales that weighed 233.39 pounds. The average team weight was 11.67 pounds and the average fish weight was 2.78 pounds. When the weigh-in concluded, Gary Debrito and Derrick Goodman brought in an impressive five fish limit that weighed 25.91 lbs. for first place, which included a nice 6.09 pound kicker fish. They received $1,000.00 dollars for their days work including first place for the tournament; first place bonus bucks $237.50 and Big Fish that paid $100.00. Coming in second place was Tim Fallon and Richard Griswold Jr, with another nice five fish limit that weighed 19.34 pounds. They received $450.00 dollars for second place, $142.50 for second place bonus bucks. Third place honors went to the team of Kevin Jones and Gerald Murray with a five bass limit that weighed 18.50 pounds. They took home $300.00 dollars for third place and $95.00 dollars for third place bonus bucks. Fourth Place honors went to the team of Michael Evans and Justin Chamblee who weighed in a five fish limit that weighed 16.57 pounds. Congratulations to all our winners and a special thanks to all our members who participated in this event.
We would like to thank Darren Saunders, his wife Dana, and the Bethel Fire Department for hosting the meeting and Topside Catering for preparing the meal. We also thank the Jackie Berry Circle Women's Group for preparing the desserts. We also would like to thank Millie at the Bethel Fishing Center for her hospitality and allowing us to conduct the weigh-in at the Marina.
Fishers of Men would also like to thank our local sponsors and ministry partners; Jerry Murray from Swampdonkey Tackle for providing baits for our drawing, First Church of the Nazarene, Camden United Methodist Church, Bassakwards, and PGF Archery and outdoors who supports our ministry as well. We also want to thank our National Sponsors ; Basscat, Mercury, Abu Garcia, Berkley Shakespeare, Spiderwire, Strike King, Power-Pole, Amphibia, TH Marine, Gator Guards, Buckeye Lures, Frogg toggs, BassBoat Technologies, Duckett Fishing, Kistler rods, Hydrowave and Jacobs Glass for their outstanding support to make this ministry a continued success.
Hotel Information:
Hotels in Elizabeth City
Comfort Inn: 252-338-8900
Days Inn: 252-335-4316
Best Western Plus: 252-331-7751
Hampton Inn: 252-333-1800

Travelers Inn; 252-338-5451
Quality Inn: 252-338-3957
Roster Information:



Yoepium River Tournament - 07/20/19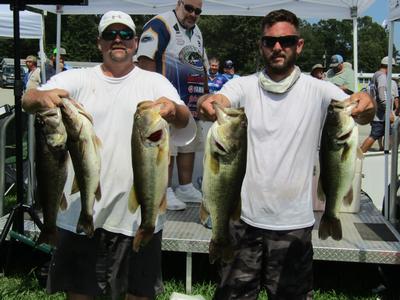 1st Place Gary Debrito and Derrick Goodman with an impressive 25.91 pound bag including the 6.09 pound big fish

---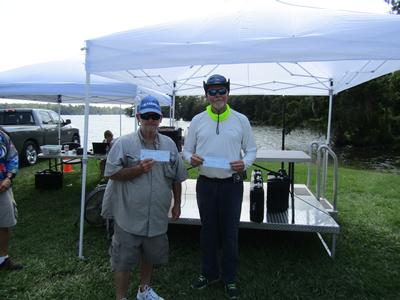 Tim Fallon and Richard Griswold Jr. receive a check for 2nd place for their limit that weighed 19.34 pounds.

---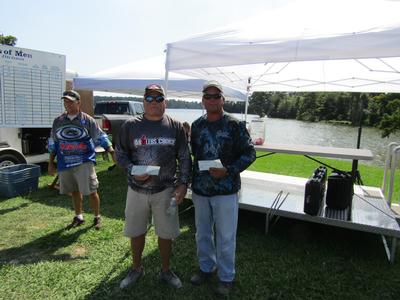 Kevin Jones and Gerald Murray receive a check for third place for weighing a 18.50 pound limit

---


Mike Evans and Justin Chamblee take 4th place honors for weighing a 16.57 pound limit. Mike accepts the check for the team.

---