Details
Go Back
It was a hot but beautiful breezy day. Everyone had their games faces on today. Fishing hard and making the most of every cast. But as competitive as our field is, one of our teams took time out of the day to pull back a stranded pontoon boat with a family of 6 aboard. It took 2 hours to tow them to the landing. Once the family was situated, the team was able to continue fishing for the remainder of the day. This was a true example of the Christian Faith and Fishers of Men is all about. Always being ready when you are called to help! This team could have easily kept going and not disrupted their day. The truth is all of our teams would have helped this family. That is truly amazing.
We managed to squeeze a little information from 2 teams. 1st Place team caught most of their fish on buzz baits, while the second place team caught most of their fish on jerk baits.
The overall winners with their two day total are:
Lavon White and Zachery White at 19.50 pounds
Lou Cobb and James Bell at 14.45 pounds
Tony Lister and James Richerson at 12.52 pounds
Mark Syck and Tommy Mills at 12.37 pounds
John Odom and Joe Turner at 11.70 pounds
Top Two for Cast for Cash:
Lavon White and Zachery White
Lou Cobb and James Bell
Big Fish:
Scotty Ramsey and Rodney Isbell at 3.51 pounds
Hotel Information:
• HOST HOTEL:
 La Quinta Inn & Suites by Wyndham Mobile Satsuma / Saraland
6104 Highway 43
Satsuma, Alabama 36572
251-675-5977
Roster Information:
Entry is closed for this event.
Entries have been received from the following teams:
| | | | | | |
| --- | --- | --- | --- | --- | --- |
| Div | Name |   | Name | Type | Entry |
| GA S | Steve Stewart | & |  Johnny Creel |   | Pd+BB |
| AL C | Heath Rolling | & |  Rick Jacobs |   | Pd+BB |
| AL NE | Garry Burns | & |  Kevin Stephens |   | Pd+BB |
| AL S | Richard Hardy | & |  Nathan White |   | Pd+BB |
| AL C | Sam Fish | & |  Donald Fish Jr |   | Pd+BB |
| AL C | Mark Syck | & |  Tommy Mills |   | Pd+BB |
| AL S | Brian Moye | & |  Kimberly Moye | Ml/Fml | Pd+BB |
| AL NW | Gary Livingston | & |  David Whitten |   | Pd+BB |
| AL S | Michael Stewart | & |  Thomas Pugh |   | Pd+BB |
| VA E | Charles Brown | & |  Jonathan Mason |   | Pd+BB |
| AL S | John Odom | & |  Joe Turner |   | Pd+BB |
| AL NE |  Robert/Bob McEarchern | & |  Richard McEarchern |   | Pd+BB |
| AL S | Roger Caldwell | & |  Matt Caldwell |   | Pd+BB |
| AL S | Tony Lister | & |  James Richerson |   | Pd+BB |
| AL S | Lavon White | & |  Zachery White |   | Pd+BB |
| AL S | Kevin Diamond | & |  Josh Diamond | A/J | Pd+BB |
| AL NE | Scotty Ramsey | & |  Rodney Isbell |   | Pd+BB |
| AL C | Christopher Weaver | & |  Kenneth Godwin |   | Pd |
| AL NW | Chris Newell | & |  Roger Motes |   | Pd+BB |
| AL S | Lou Cobb | & |  James Bell |   | Pd+BB |
| AL S | Daniel Kelley | & |  Cody Roberson |   | Pd+BB |
| AL NW | Matthew Nesmith | & |  Tara Nesmith | Ml/Fml | Pd+BB |
| AL S | Anthony Boyett | & |  Brian Metcalf |   | Pd+BB |
| AL S | James Taylor | & |  Clayton Stewart |   | Pd+BB |
| AL NE | Kyle Colley | & |  Marty Colley |   | Pd+BB |

District 2 Championship on the Tensaw Delta-Day 2
-
10/05/19
RESULTS: |
View Multiday Day Results
|
Day 1
| Day 2 |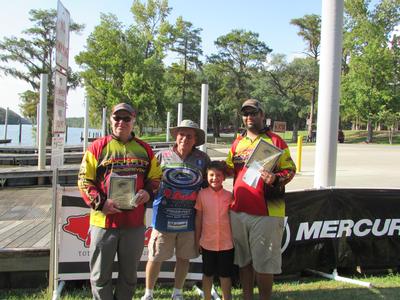 District 2 Champs Lavon & Zac White

---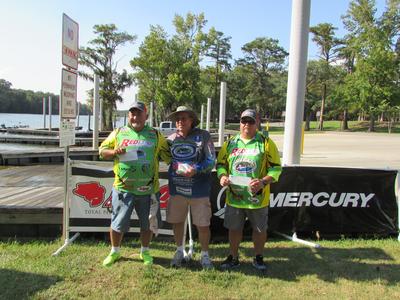 2nd place Lou Cobb & Jim Bell

---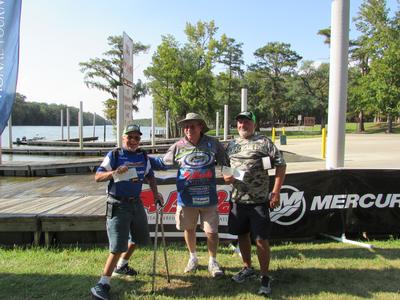 3rd Place Tony Lister & James Richerson

---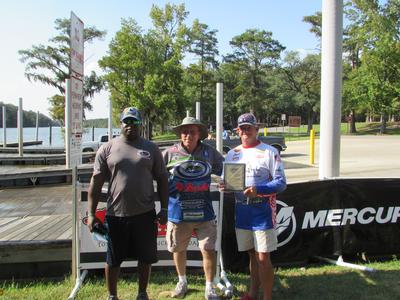 4th place & Day 1 big fish Mark Syck & Tommy Mills

---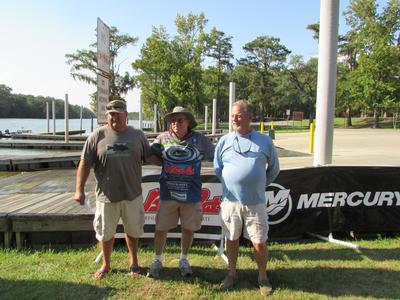 5th place John Odom & Joe Turner

---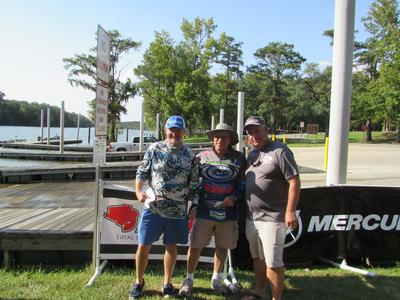 6th Place Danny Hardy & Nathan White

---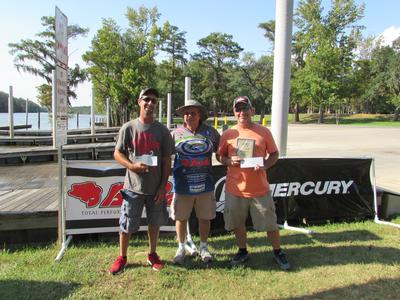 Day 2 Big Bass Scotty Ramsey & Rodney Isbell

---