South Carolina Upstate - Team
Go Back
---
About This Division
WELCOME!!
The 2019 Season is underway, with the Keowee, Greenwood, Russell, and Clark Hill tournaments complete!
Register below for our next tournament on HARTWELL before Midnight, Wednesday, May 29th, to avoid a late fee!
TEAM SERIES:
Jan 26- Keowee
Feb 23- Greenwood
March 16- Russell
April 27- Clark Hill
June 1- Hartwell
LEGACY Series:
March 30- Seccession
April 20- Hartwell
May 18- Keowee
Fishers of Men SC Upstate TEAM Division is an Off-Limits with Friday Practice Division. This means that the tournament water to be fished goes Off-Limits at 12:01 a.m. on the Monday morning before the tournament, and remains Off-Limits until Safelight the Friday before the tournament. All competitors must be off of the water on Friday evening in time to attend the Friday night meeting.
____________________________________________________________________________________________
LAUNCH SEQUENCE: RULE 7
Starting positions for teams who entered before the LATE FEE DEADLINE will be determined by either a drawing or a random number assignment by a computer prior to the meeting. Teams that enter the tournament at the meeting may be assigned blast-off numbers in the order in which they entered.
_____________________________________________________________________________________________________________________
We are accepting tournament entries below via PayPal.
Please get your 2019 season membership through the National website before entering a tournament. You must be a member to compete:
CLICK HERE: GET MY MEMBERSHIP
Print your ENTRY FORM to complete and bring to the meeting.
RAFFLE TICKETS ARE HERE!
You may pay for tickets purchased directly from a Fishers of Men member below via PayPal. There is a convenience fee added. Please type the name of the seller from whom you are purchasing tickets in the box provided. (AT THIS TIME, this is NOT for buying tickets "online" to be shipped to you. Thank you.)
We have some exciting new incentives for 2019!
Be one of only 3,000 participants by getting in early.
FOM team series divisional events will be paying $250 & $150 to top two cast for cash teams
FOM Championship will pay $1000 & $500 to top 2 cast for cash teams
MUST PURCHASE MEMBERSHIP & REGISTER 48 hours PRIOR to event to be eligible
Click HERE to buy Cast for Cash membership and HERE to register
Smallest 5 Fish Limit TEAM PRIZE
$100 Prize
Goes to the LIGHTEST 5 fish limit
To QUALIFY: Team must be represented at Friday Night Meeting
Out of the MONEY Drawing
$150 drawing
Any team not winning any money at event is eligible for drawing
Drawing to be held at following tournament meeting (except final event to be held following weigh-in)
Must be PRESENT to win
4:19 Challenge (Sponsor: Jim Hudson Toyota)
WIN with a WINNING weight ending in 4.19 (for example 14.19 lb, 24.19 lb, 34.19lb, etc)
SC Upstate TEAM Divison Events:
Winning Big Fish- $200
Winning Weight- $300
**ANY 4.19- $100 (BF for your sack, or total 5 fish weight not winning)
Team Series District Championships & LEGACY Championship
Winning Weight- BASS CAT / MERCURY Boat/Motor Package

Team Series NATIONAL Championship
Winning Weight- BASS CAT / MERCURY Boat/Motor Package, plus a TOYOTA TUNDRA TRUCK
Guaranteed PAYOUTS
1st Place Payouts (based on 60 boats)
Keowee: $4,000
Greenwood: $4,000
Russell: $4,000
Clark Hill: $4,000
Hartwell: TBA
The $4,000 is based on a standard 1st place $2,000 payout with 60 boats, plus BONUS of $2,000
To QUALIFY for bonus money added to First Place: One Team member must be present at Friday night meeting
(In the event that the First Place winning team was NOT represented at the Friday meeting, they will receive the normal First Place payout. Then, the next highest-placing Team PRESENT AT THE MEETING receives the bonus money added to their payout)
Please refer to Tx Details below for specific information on each tournament.
Congratulations to Brian and Nicole Tidwell, the 2018 Points Champions!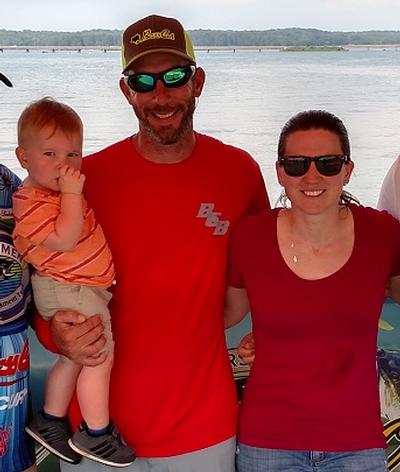 Tournament Director:
Rodney Floyd
E-mail: rodneyfloyd@fomntt.com
Phone: 864-417-5804
Co-Director: Chris Rhodes
e-mail: crhodes@cityofclemson.org
Phone: 864-710-6985
Associate Director- Tom Cloer
e-mail: tcloer@cityofcentral.org
Phone: 864-643-6276
---
Mission Statement: To present the Gospel of Jesus Christ, and the challenge of knowing Him as Lord and Savior, to fishermen and their families, through competitive and professionally run bass fishing tournaments and other venues as God allows.
---
Fishers of Men would like to thank all of our NATIONAL & LOCAL Sponsors:
Fishers of Men would like to thank all of our fine sponsors; BassCat Boats, Mercury, Berkley, Abu Garcia, Spiderwire, Shakespeare, Strike King Lure Company, Power-Pole, Jim Hudson Toyota, Duckett Fishing, BassBoat Technologies, Amphibia Eyewear, Buckeye Lures, T&H Marine, Gator Guards, Frogg Toggs, Kistler Rods, Jacobs Glass, Valley Fashions
Once again thanks so much to all of our sponsors and our SC Upstate sponsors as well that include: Advanced Underground Specialists, Inc., D&S Lawn Care, Rainbow Baits, Rhodes Silver Spinners, Anderson County Parks and Recreation, www.ProfoundOutdoors.com, Tightline Custom Rods and Repair, and a few special individuals that believe in this GREAT MINISTRY.
---
Check out our Legacy division:
---
If you would like to support the FOM SC Upstate Team Series division financially, please use the PayPal button below. FOM is a 501(c)3 Nonprofit Organization, and your donation is tax-deductible, as described by law.
---
Director Information

Rodney Floyd
406 Golden Leaf Lane
Simpsonville, SC 29681
(864) 417-5804

Division Chaplain
---
Division Events
| | | | |
| --- | --- | --- | --- |
| Event | Ramp | Date | Details |
| KEOWEE | South Cove | January 26, 2019 | Results |
| GREENWOOD | Greenwood State Park | February 23, 2019 | Results |
| RUSSELL | Richard B Russell State Park | March 16, 2019 | Results |
| CLARK HILL | DORN | April 27, 2019 | Results |
| HARTWELL | Greenpond | June 01, 2019 | Details |
---
Division Standings
2019
2018
2017
2016
2015
2014
2013
2012
2011
2010
2009
2008
2007
2006
---