Details
Go Back
***OFF LIMITS with PRACTICE division***
This tournament is sponsored by Money Concepts David and Kyle Hackney 3038 Manns Chapel Rd. Pittsboro NC 27312
N.C. Central's first team event of the year was hosted by our long time partner, Central Baptist Church in Henderson, NC. Pastor Randy Mann and his great staff always go all out to make us feel at home and we leave full of good food and desserts. This time was no exception with the pulled pork, great sides and desserts. Thank you.
Pastor Mann's message was spot on and needed to be heard by everyone, including me. He explained that everyone wants to go to Heaven but they don't want to hear the part about needing to repent of of their sins. We must repent and then put the Lord first in our lives.We can not pick and choose the parts of the Bible that we like and ignore the ones that we don't. God is our Lord and Saviour or He isn't. There is nothing that we can do to earn our salvation. Jesus Christ has already paid that debt for us. We had 9 re-dedications and 1 decision for Christ.
It seems as if we can't get over the cold weather. At blast off it is 30 degrees with a brisk wind. Sure am glad I'm not fishing! Very thankful that sun was shining and no rain. When the 48 boats blasted off, I thought it might be a slow day for fishing. As it turned out, I was wrong. There were 7 bass weighed in that weighed 5 lbs or more each. The big fish for the day was 5.80 lbs. There were a total of 153 fish weighed for a total weight of 413.59 lbs. There 19 (5 fish limits) weighed in.
1st place were David and Allen Farman with 18.92 lbs. They took home $3,028.00 Not bad for 48 boats.
2nd place were Travis Watson and Brian Benish with 17.60 lbs They took home $1,412.50 which did not include the 1st place Berkley Cast for Cash money of $250.00 which will be presented at our Lake Gaston tournament. They won 1st place in Bonus Bucks.
3rd place were Jeremy Moody and Lucas Lobaugh with 16.81 lbs. They took home $937.50 They won 2nd place in Bonus Bucks
4th place were Matthew Parker and Ronnie Pope with 16.55 lbs. They won $352.00
5th place were Tony Fox and Wayne Sheppard with 16.55 lbs. They tied with 4th place. They won 3rd place in Bonus Bucks. They took home $497.00 This did not include 2nd place Berkley Cast for Cash of $150.00 which will be presented at our Lake Gaston tournament.
The big fish of 5.80 lbs was caught by the adult/junior team of Scott and Connor Freeman. They won $240.00 for the big fish.
Don't forget we are off limits for Lake Gaston Monday April 1st to first light Friday April 5th. Looking forward to seeing everyone at Lake Gaston Baptist Church on Friday evening April 5th
Remember to be in running to win Berkley Cast for Cash you must be signed up 48 hours prior to Fri. April 5th.
Roster Information:



Kerr Lake - 03/23/19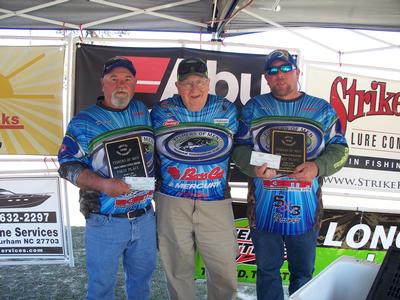 1st Pl David and Allen farman

---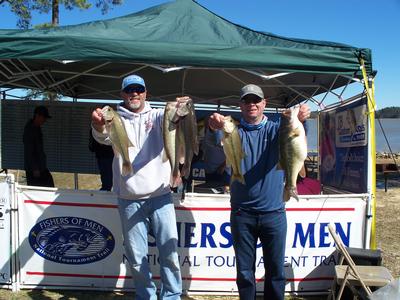 2nd Pl Travis Watson and Brian Benish

---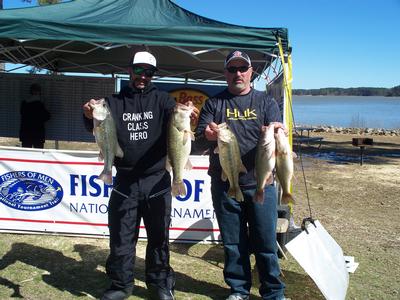 3rd Pl Jeremy Moody and Lucas Lobaugh

---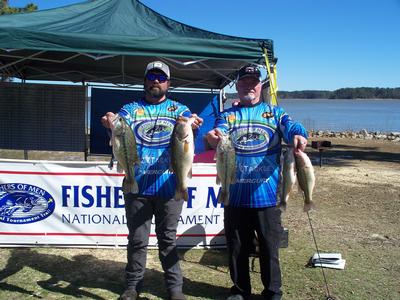 4th Pl Matthew Parker Ronnie Pope

---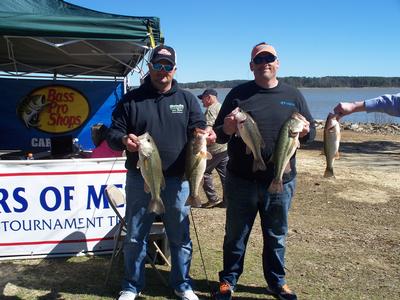 5 Pl Tony Fox and Wayne Sheppard

---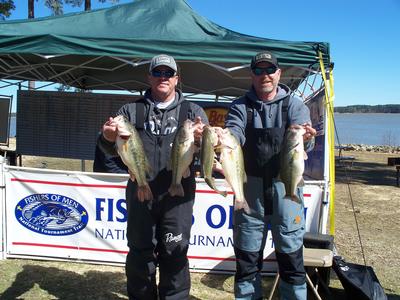 6th Pl Lonnie Whitfield and Phillip Smith

---