Details
Go Back
Tournament #6 on Big Sam is complete!
We started our tournament weekend at First Baptist Church of Broaddus Texas where we were treated to BBQ brisket and sausages, potato salad, rolls and all the fixin's! This meal was provided by our great partner in this ministry, Daron Skero and Skero Furniture. What a blessing his team has been to Texas East!
Larry Daigle blessed us with a message that spoke directly to our fellowship and the Holy Spirit moved in a big way. We had one of our fishermen ask the Lord into his heart for the first time and we had multiple men and women recommit themselves to follow the Lord. What was amazing was the amount of prayer requests and the nature of the requests. We have so many that are hurting so bad. Many prayers are going up to beg the Lord for relief from these things that are so burdensome to these souls.
Saturday morning found us on the Jackson Hill ramp at 4:30 for the last time in our regular 2019 season. The weather was threatening early on but we were able to get everybody off on time. The weather held all day however it began to cloud up and the wind shifted to the north just about weigh in time. We got everyone on the scales and checks paid before the rain started spitting.
The team of Jason and Dakota Dew brought in the winning sack of 21.99. Jerry Wade and Dale Robinson took second honors with 19.5 and a 8.1 kicker sow for the Ed Parten Big Bass honors. Steve Ashworth and Tex Rieder rounded off our top three with a bag that tipped the scales at 18.3. Congrats to all of our winners!!
This tournament ended our regular season and we were able to crown our Division Champions. The team of Lynn Thibodeaux and Larry Nassar showed us all season long just how good they are by winning the first three tournaments and taking second in the fourth. We are so blessed to have these guys fishing with us. We are all hoping they start sharing some of their techniques with us!!
We as a division have made a special emphasis on raising money for food for the orphanage in Brazil and we have proved once more just how generous these folks in Texas East are! We have raised over $3000 for the Fishing to Feed campaign! Your giving spirits are amazing!!
We have already started lining up ramps for 2020 and should be able to put out the schedule in the next few weeks. One of the goals for 2020 is for our division to raise $20,000 for the kids! $20k in 20'!! It would be awesome if several of our other divisions took on this same challenge!
Thanks to all of the many that put in so much time to make the events go off smoothly. Our team is unbelievable!!
We would like to thank our local sponsors Beacon Wealth Management , Jason Dew, Gary Baker, Laurie Baker of Dew Drop Jewelry, Charles Stoker, Leonard and Cheryl Claridy, Kistler Rods, Big Help Desk, Fin and Feather Resort , First Baptist Church of Hemphill and First Baptist Church of Broaddus.
Many thanks to our sponsors; Fishers of Men would like to thank all of our fine sponsors; BassCat Boats, Mercury, Berkley, Abu Garcia, Spiderwire, Shakespeare, Strike King Lure Company, Power-Pole, Jim Hudson Toyota, Duckett Fishing, BassBoat Technologies, Amphibia Eyewear, Buckeye Lures, T&H Marine, Gator Guards, Frogg Toggs, Kistler Rods, Jacobs Glass, Valley Fashions
Roster Information:



Sam Rayburn - 03/30/19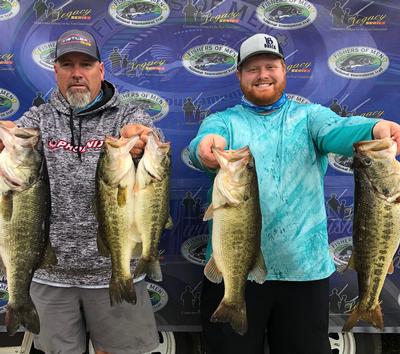 Dew and Dew smoke it on Big Sam!

---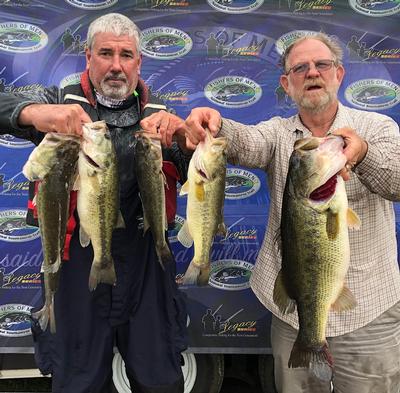 Jerry Wade and Dale Reynolds take second with a 8.1 kicker toad!

---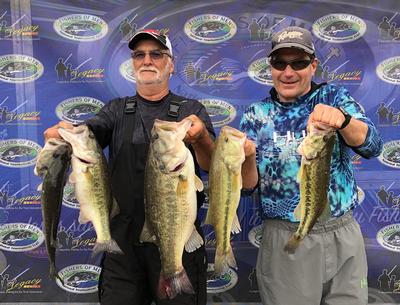 Steve Ashworth and Tex Rieder round off the top three with a 18.3 sack!

---