Details
Go Back
~~Cherokee was tough
The second East Tennessee Fishers of Men Tournament was held on Cherokee Lake. We returned to First Baptist Church Dandridge again this year. Dr. Justin Terrell preached a lesson on temptation where many were moved, and we had two people rededicated their lives to the Lord. Awesome.
In a tournament where there were only 32 fish caught. Only two limits caught makes for a tough day. But someone always makes the right adjustments and this time it was the Coughlins.

The Ameriprise First place went to the team of Matt and Bob Coughlin with 13.11 pounds of bass. This team reported running their Mercury to the mid lake to catch only six keepers the whole day on A-rig. Great job guys
Second place went to the team Brian Jordan and Michael Smith this talented team ran their White Pine Marine Mercury powered boat to the mid-section of the lake to bring back 5 bass weighing in at 11.36 pounds. Brian reported using a gulp minnow on the main lake fishing 15 feet deep. Second pattern was targeting secondary point using mainly rattle type baits like the Berkley Wartpig to catch the bag of fish. White Pine Marine, Sublime, Dixie Custom Rods and Tackle sponsor this team. Brian and Michael are also the inventors of the Tote Rite Motor tote for the new 4 stroke Mercury that everyone is running now.
Third place went to the team of Kenny Bishop and Ed Kyte they had 3 fish for 8.78 pounds. This team ran to the mid-section of the lake to catch their fish. Kenny reported catching their fish on a Carolina rig. Kenny stated they only had 5 bites all day
Fourth place went to went to Bill Humbard who reported running his Mercury powered boat around the lower end of the lake to bring back 8.71 pounds of bass. Bill said he was focusing on pea gravel flats using a crankbait. Bill is sponsored by White Pine Marine and Mercury outboards.
Fifth place went to the White Pine Marine Team of Kenny Sexton and J C Loveday who had 3 fish weighing in at 7.71 pounds. Kenny reported running his Mercury powered BassCat boat all over beautiful Cherokee Lake but could find any keepers. But around 1:30 JC tied on a Carolina Rig and caught 3 keepers off the same point to give them the 3 fish.
The White Pine Marine Award which is one place out of the money goes to Bobby Cardwell and Michael Cantrell. White Pine will pay their entry fee in the next tournament.
.
East Tennessee Fishers of Men would like to thank it local sponsors that make everything possible this year Bill Freeman and Randy White with Ameriprise Financial, White Pine Marine, Dixie Custom Tackle, Mack's Auto Glass Express and Custom Body Shop 865-566-4320, Tennessee Overhead Door and B&M Tires.
Fishers of Men would like to thank all our fine sponsors; BassCat Boats, Mercury, Berkley, Abu Garcia, Spiderwire, Shakespeare, Strike King Lure Company, Power-Pole, TH Marine, Jim Hudson Toyota, Sportsman's Warehouse, Duckett Fishing, BassBoat Technologies, Buckeye Lures, Gator Guards, Kistler Rods, Amphibia Eyewear, Jacobs Glass
Matt and Bob Coughlin take the win on a tough day on Cherokee with 13.11 poounds.
Roster Information:



Cherokee - 03/23/19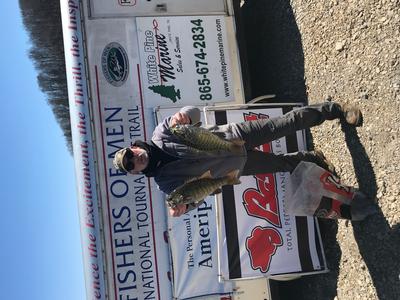 1st place go to the Couglin

---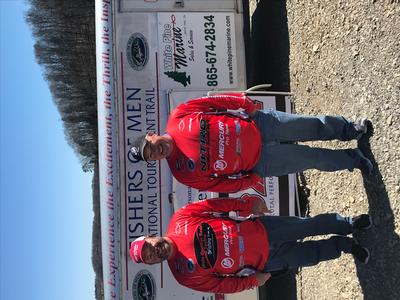 2nd place Jordan & Smith

---