Details
Go Back
Day 2 of the 2019 District Championship was almost a mirror image of Day 1 as far as the weather was concerned. Beautiful temps with a steady wind of 10-15 mph. The fishing was a different story and all together tough for most, but not too tough for Brian and Lauri Lopp who brought the biggest bag of the event to the scales with a 16.80 bag including the Day 2 Big Bass weighing 4.24. The husband and wife team ended Day 1 in 5th Place but would end up with a total weight of 27.99 making them the 2019 District 11 Champions. Congratulations to Brian and Lauri! Finishing in 2nd Place was the Adult/Junior team of Paul Paskevicius and Matteo Turano with a total of 23.08. Paul and Matteo has almost identical days with 11.55 & 11.53. Coming 3rd for the event was the team of Kerry Malone and Jim Dietel with a day two weight of 10.98 added to 10.34 from Day 1 makes their total weight 21.32. Finishing in 4th Place was the father/son team of Michael and Richard Rasmussen with a two day total of 18.89. 5th Place is the team of Cravens and Digiavonna with a two day total of 18.05. These five teams have qualified to compete in the National Championship next March in Leesburg, Florida on the Harris Chain of Lakes. Also qualified is the husband and wife team of Marlan and Debbie Brown who were the only team fishing out of a BassCat boat. Congratulations to all the teams who qualified for Nationals! We look forward to cheering you all on next March!
Fishers of Men would like to thank all of our fine sponsors; BassCatBoats, Mercury, Berkley, Abu Garcia, Spiderwire, Shakespeare, Strike King Lure Company, Power-Pole, Jim Hudson Toyota, Duckett Fishing, BassBoat Technologies, Amphibia Eyewear, Buckeye Lures, T&H Marine, Gator Guards, Frogg Toggs, KistlerRods, Jacobs Glass
Roster Information:
Entry is closed for this event.
Entries have been received from the following teams:
| | | | | | |
| --- | --- | --- | --- | --- | --- |
| Div | Name |   | Name | Type | Entry |
| KY W | Marlan Brown | & |  Debbie Brown | Ml/Fml | Pd+BB |
| MN | Christopher Simmons | & |  Jonathan Sundberg |   | Pd+BB |
| IL C | Mark Rahn | & |  Jason Stomberg |   | Pd+BB |
| IL C | Michael Rasmussen | & |  Richard Rasmussen |   | Pd+BB |
| IL C | Patrick Cravens | & |  Joe Digianvonna |   | Pd+BB |
| IL C | Brian Lopp | & |  Lauri Lopp | Ml/Fml | Pd+BB |
| IL C | Kerry Malone | & |  Jim Dietel |   | Pd+BB |
| KY W | Scott Wasson | & |  Doug Florkowski |   | Pd |
| IL C | Steven Rush  | & |  Herb Rush |   | Pd+BB |
| IL C | Paul Paskevicius | & |  Matteo Turano | A/J | Pd+BB |
| IL C | John Osmer | & |  Kim Crisman |   | Pd+BB |
| IL C | Brandt Sjuts | & |  Ty Coon | A/J | Pd+BB |
| IL C | Cameron Cokley | & |  Eric Cokley |   | Pd |
| IL C | Jacob Traeger | & |  Jerry Lotz |   | Pd |
| IL C | Mark Busch | & |  Michael Busch |   | Pd |

District 11 Championship on Springfield-Day 2
-
09/14/19
RESULTS: |
View Multiday Day Results
|
Day 1
| Day 2 |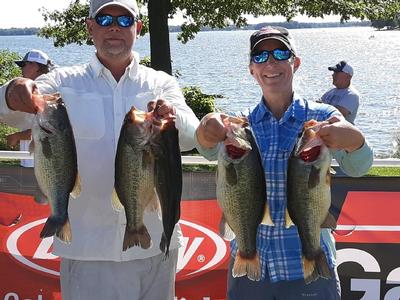 District Champions Brian and Lauri Lopp with 16.80 and Day 2 Big Bass of 4.24, Total weight 27.99

---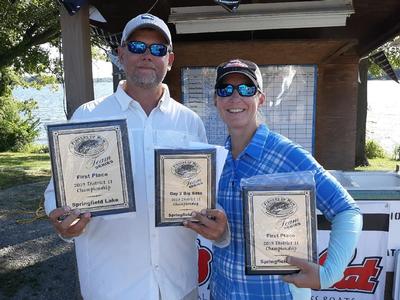 1st Place & Big Bass Plaques

---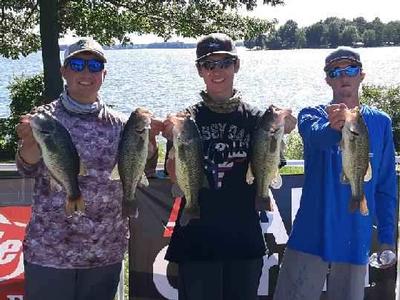 2nd Place Paul Paskevicius and Matteo Turano with 11.53 on Day 2 for a total weight of 23.08

---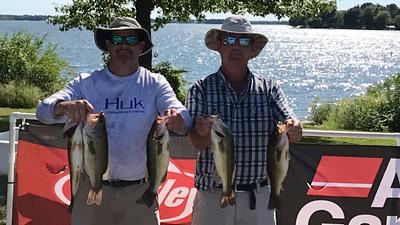 3rd Place Kerry Malone and Jim Dietel with a two day total of 21.32

---