Details
Go Back
The Clenney Agency Lake Seminole Tournamen
The Clenney Agency Tourrnament as Lake Seminole was a success. This tournment opened a new Chapter for the Georgia South Division. We had a great meeting at the Colquitt Free Will Church. Brother Steve Stewart had a great message about change. Change is a great thing in all aspects of our life. He shared his personal story with change. We should always challenge the status quo rather it be with our faith or with fishing.
Saturday morning was cold. Especially for Lake Seminole. We had a major front blow through on Friday that brough a large amount of rain with cold. Several areas through out Georgia flooded. With this rain brought the cold and extremely muddy rivers. However, Team Williams\ Smith managed a sack of 22.55lbs and big fish with a 5.69lb bass.
Our next meeting is Friday March 27th at Baptist Tabernacle Church of Lagrange GA in Lagrange Georgia. Our tournament is. March 28th on Lake Lake West Point - Pyne Road Park. We look forward to seeing everyone there!!
Fishers of Men would like to thank all of our fine sponsors; BassCat Boats, Mercury, Berkley, Abu Garcia, Spiderwire, Shakespeare, Power-Pole, Jim Hudson Toyota, BassBoat Technologies, Amphibia Eyewear, Buckeye Lures, T&H Marine, Gator Guards, Frogg Toggs, Kistler Rods, Jacobs Glass, Valley Fashions.
Georgia South would like to thank all of our local sponsors: The Clenney Agency, O'Reilly Auto Parts Eufalua Al, JJ Magic, Armal Inc, Ben Marlow Allstate, Narwhal Financial, Gruv Fishing, Choo Choo Lures, Salty Lures, Georgia Blade Company, Chewalla Creek Marina, Pit Boss Grills, ALX Rods, Garland Mountain Sporting Clays and Grill and Fish Monkey Gloves. We would also like to thank some of our fishermen & volunteers for donations to our ministry. Without the support of these individuals we would not be able to provide the EXTRA to make our events special for our anglers.
Roster Information:



Lake Seminole - 02/08/20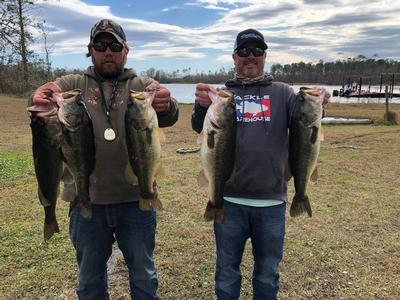 Williams\ Smith 1st Place

---