Details
Go Back
18 Teams took part in our 2nd LEGACY event on Russell, April 10, 2021
What a GREAT morining Saturday turned out to be, after a few days of threating weather that looked like it may linger around on Saturday! The skies cleared and the stars were peaking at us during the check in. Thank YOU LORD!!
One of our Dads, Ben Franklin gave the devotion Saturday morning. The main question: "Will you cast your net into deeper water?" Ben shared how his family was turned upside down in 2019 when his wife, Kelly had an accident that left her paralyzed. As you can imagine, everything about that day and after has forced the Franklins to step out into FAITH so much more than they ever imagined they would need to. Their story has (and still is) impacting so many lives by the way that they have responded, IN FAITH. Ben shared the story in Luke 5 when Jesus stood on the shore and told Simon (Peter) and the other fisherman to cast their nets into DEEPER water. Just think about how reluctant those fishermen were to put the nets out again, but Simon said "but at your word I will let down the nets." The results were a catch like they had NEVER seen!!
So, I ask again.... "WILL YOU CAST YOUR NET INTO DEEPER WATER?" No matter where you are on your spiritual journey, that question is for you. Maybe you have been a Christian for a while, but you need to take that next "DEEPER" step into a closer walk with Jesus and influence your family and friends with a brighter light for Christ. Maybe you are a NEW Christian, and you just need to find a Christian Mentor or group that can help you take the next step and continue to grow in your faith. Maybe you have questions about the Christian Faith, and you heard the story about Kelly and Franklins and it resonated with you in a way that you would like to know about this FAITH that Ben has which has enabled them to continue to push forward and draw closer to Christ, even through the most difficult of life change.
Please contact me directly if you would like to talk, pray, or learn more about what it means to follow Christ. Rodney 864-417-5804
The fishing was GREAT for most of our anglers on saturday. Many fish were caught, and everyone was searching for that BIG bite throughout the day. There were several tactics used to catch fish, as there were schooling and feeding up, some post spawn and some pre spawn patterns, and some were found on the bed as well. Good times when the fish are biting. We were happy to see all our anglers have a good day on the pond.
Congratulations to our winners!!!
GUARANTEED PAYOUTS:
1st: $750- BRAD & LOGAN BURDETTE: 10.01 lbs
2nd: $500- MIKE MALOY & CALEB KELLEY: 9.67 lbs
3rd: $300- JON & DANIEL ANDERS: 9.02 lbs
Jr Big Fish: $250- AL YOUMANS: 3.85 LBS
Big Fish: $150- JON & DANIEL ANDERS: 4.16 lbs

FUN STUFF:
Small FIVE: $100- PHILLIP & NOAH PRICE: 4.70 LBS
Outta-da-Money: $100 (Drawing from those not winning any cash)
3.16 & 4.19 Challenge: Several opportunities with Total weight or BF weight ending in 3.16 or 4.19- NO WINNERS THIS EVENT
Rodney Floyd
SC Upstate- Director
864-417-5804
rodneyfloyd@fomntt.com
Roster Information:
PREPAID TEAMS: 16 as of 10:00 pm, Wed 4/7/21
- Adam Bernshausen & Daniel Bernshausen
- Benjamin Franklin & Jackson Franklin
- Brad Burdette & Logan Burdette+ BB
- Brandon Brock & Jacob Brock+ BB
- Hank O Shields & Dustin O Shields+ BB
- John Botts & Finn Botts+ BB
- John Wilson & Ella Wilson+ BB
- Jon Anders & Daniel Anders
- Keith Mock & Aldon Youmans
- Kenneth Brock & Clay Brooks
- Mark Gibson & Sawyer Redmond+ BB
- Phillip Price & Noah Price+ BB
- Quinton Frankiewicz & Jakob Jackson
- Steve Kelly & Jack Kelly + BB
- Tyler Pignato & Bowen Pignato
- Wayne Botts & Dayne Botts+ BB

Russell
-
04/10/21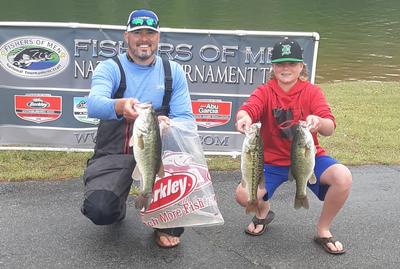 1st- BRAD & LOGAN BURDETTE- 10.02 lbs

---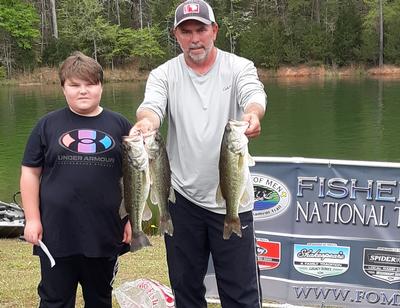 2nd- MIKE MALOY & CALEB KELLEY- 9.67 lbs

---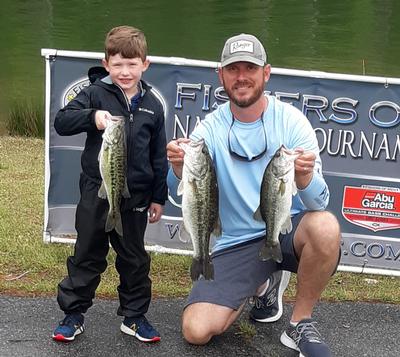 3rd- JON & DANIEL ANDERS- 9.02 lbs, 4.16 BF

---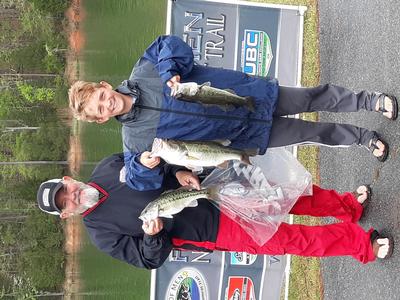 JUNIOR BIG FISH- ALDON YOUMANS- 3.85 lbs

---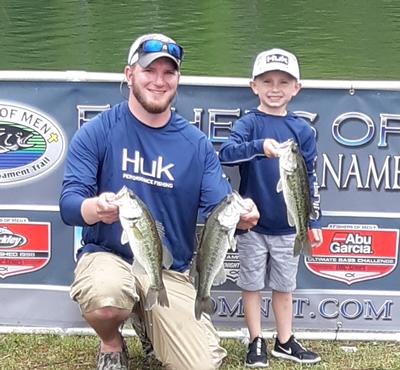 ---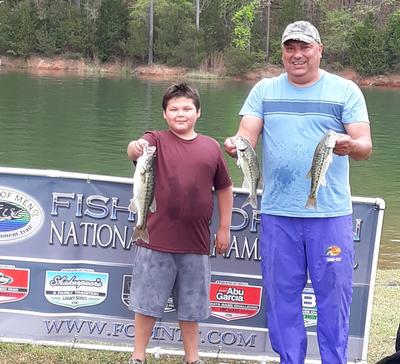 ---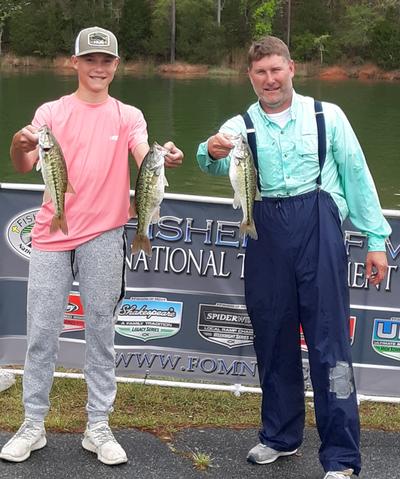 ---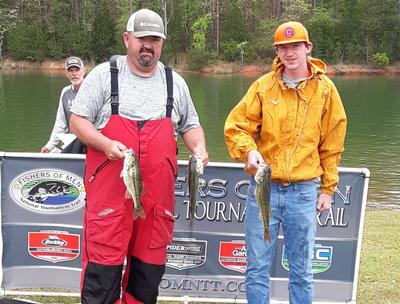 ---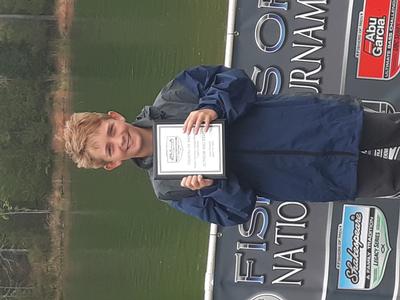 ---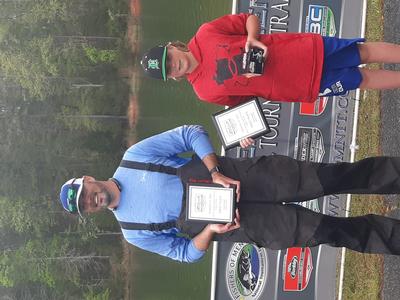 ---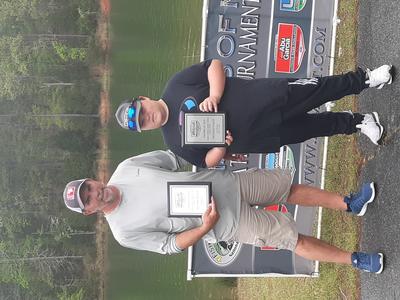 ---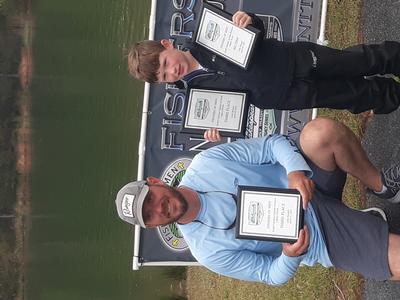 ---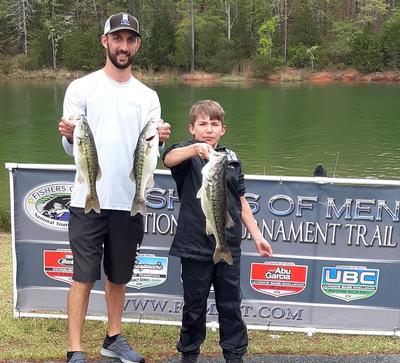 ---
---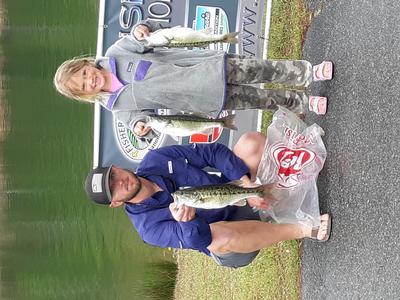 ---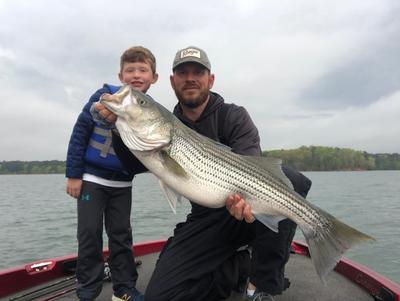 BONUS PIC!!

---