<
Details
Go Back
Watson & McFadden Claim 2022 Berkley Team Series District 3 Championship presented by Realtree Fishing
After Hurrican Ian forced the cancellation of Day 1 Seventy Teams were eager to get going on Saturday for what would be a 1 Day shootout on Lake Murray. The question was would the 2-4 inches of cool rain that fell on Thursday mess up the bite as Murray had been by all acounts on fire up through practice.
While many teams struggled to figure out what happened to their fish the team of Mike Watson and Craig McFadden made it look easy as they bested the field by over 5 lbs with a limit that tipped the scales at 25.49 lbs. Included in their Bag was the days Big Bass a 5.44 lber which means their other 4 had to average 5 lbs a piece. Great Catch fellas. Altogether they earned over $5000
Finishing 2nd was the always tough Upstate team of Michael and Jon Anders who brought a limit that weighed 20.42 lbs to the scales. They took home over $2700
In 3rd was the Lowcountry Team of Joey Sabbagha and Dalton Dowdy who weighed a 20.39 lb bag. Good enough to collect $1700.
4th Place went to previous Lake Hartwell National Champions Jason Burroughs and Darren Ashley who had 18.5 lbs They took home $1100
Rounding out the Top 5 was the team of Kevin Fulmer and Tim Sox who weighed 18.13 lbs good enough for $1000
Other qualifiers for next Spings National Championship on Lake Hartwell were as follows
6th Howard & Ellis
7th Shull & Vining
8th Berry & Anderson
9th Miller & Cochran
10th Reid McGuinn
11th Frierson & Mueller
12th Newton & Campbell
13th French & Poplin
14th Johnson & Stacey
15th Alvanos & Anderson (via Highest finishing Mercury inside top 14)
Highest BassCat Team GL Compton & Matt Sprouse
Highest Male/Female Team Tony & Penny McGraw
Highest Adult/Junior Reggie Luper & Aiden Luper
Fishers of Men would like to say a special thanks to Scott Powers and Experience Columbia Sports and all of our fine sponsors; BassCat Boats, Mercury, Berkley, Abu Garcia, DuraBraid, Realtree Fishing, FireFly Marine, Power-Pole, T&H Marine, X2 Power, FroggToggs and Jacobs Glass
Roster Information:
Entry is closed for this event.
Entries have been received from the following teams:
Div
Name
Name
Type
Entry
SC L
Sam Hopkins
&
John Mathews
Pd+BB
SC U
Brock Taylor
&
Erik Martin
Pd+BB
SC U
Chris Rhodes
&
Aiden Somerville
Pd+BB
SC U
Todd Pearson
&
David Strickland
Pd+BB
SC U
Carl Melton
&
Phil O'Dell
Pd+BB
SC U
Randy Dickson
&
Kevin Dickson
Pd+BB
SC L
Tyson Alvanos
&
Hampton Anderson
Pd+BB
SC L
Terry Thomas
&
David Kneece
Pd+BB
SC L
Tripp Fryar
&
Ashley Fryar
Pd
SC L
Maurice Sauls
&
Robbie Amos
Pd+BB
SC L
Neil Huffstetler
&
Ben Lee
Pd+BB
SC L
Chris Veronee
&
Chris Gramling
Pd+BB
SC U
Darry Waits
&
Brady Waits
Pd+BB
SC U
Brian Tidwell
&
Michael Tidwell
Pd
SC L
Wayne Frierson
&
Ronald Mueller
Pd+BB
SC L
Michael Swygert
&
Trent Swygert
Pd+BB
SC U
Tommy Newton
&
Ken Campbell
Pd+BB
GA N
Shane Riddle
&
Thomas Riddle
Pd+BB
SC L
Clay Riddle
&
Chris Dorlan
Pd+BB
SC L
James Fields
&
Harold Woods
Pd+BB
SC U
Jimmy Turner
&
Mark Weaver
Pd
SC L
Blaine Harley
&
Gregory Harley
Pd+BB
SC U
Brady Kimbrell
&
Adam Smith
Pd+BB
TN C
Len Harley
&
Brian Butler
Pd+BB
SC L
Chuck Howard
&
Ken Ellis
Pd+BB
SC L
Tracy Hewitt
&
Calvin Hewitt
Pd+BB
SC U
Jason Snyder
&
Jason Skinner
Pd+BB
SC L
Lee Sawyer
&
Cole Winn
Pd+BB
SC L
Mike Watson
&
Craig McFadden
Pd+BB
SC U
Michael Smith
&
Micky Lusk
Pd+BB
SC U
Sammy Moody
&
George OShields
Pd+BB
SC U
Danny Ashley
&
Blake Riddle
Pd+BB
SC U
Cody Brock
&
Brian Fleming
Pd+BB
SC U
Brad Burdette
&
Brandon Burdette
Pd+BB
SC U
Reggie Luper
&
Aiden Luper
A/J
Pd
SC U
Michael Hatfield
&
Graham Hatfield
Pd+BB
SC U
Jonathan Botts
&
Wayne Botts
Pd+BB
NC P
Brad Peyton
&
Michael Hardee
Pd
SC U
Mark Richardson
&
Phillip Richardson
A/J
Pd+BB
SC L
Bryan Miller
&
John Byrd III
Pd
SC L
Joey Sabbagha
&
Dalton Dowdy
Pd+BB
SC U
Eddie Landreth
&
Tony Holliday
Pd+BB
SC L
Paul Selle
&
Jonathan Ray
Pd+BB
SC U
Brett Douglas
&
Patrick Hobson
Pd+BB
SC L
Glenn Gentry
&
Shannon Jordan
Pd+BB
SC U
Jason Burroughs
&
Darren Ashley
Pd+BB
SC L
Kevin Fulmer
&
Tim Sox
Pd+BB
SC U
GL Compton
&
Matthew Sprouse
Pd+BB
SC U
Joey Miller
&
Cole Cochran
Pd+BB
SC U
Michael Anders
&
Jonathan Anders
Pd+BB
SC U
Chandler Baumgardner
&
Michael Baumgardner
Pd
SC L
Wayne Jeffcoat
&
Kevin Banks
Pd+BB
SC L
Andy Wicker
&
Reid McGinn
Pd+BB
SC L
Darrell Shull
&
James Vining
Pd+BB
SC U
Carl Whitfield
&
Robby Hunnicutt
Pd+BB
SC U
BJ Ballard
&
Chastan Hanna
Pd+BB
SC L
George Berry
&
Sean Anderson
Pd+BB
NC P
Marty Nester
&
Don Smith
Pd+BB
SC L
Emmett Maynor
&
Karson Grubbs
Pd+BB
SC L
Joshua Johnson
&
Brandon Stacey
Pd+BB
SC L
Jason Fulmer
&
Steven Pizzino
Pd+BB
SC U
Tony Hudson
&
Zachary Hudson
A/J
Pd+BB
SC L
Eddie Burgess
&
Easton Burgess
Pd+BB
SC L
Keith Britt
&
Jerry Montjoy
Pd+BB
SC U
Chris Coleman
&
Truett Hill
Pd+BB
SC L
Marshall French
&
Tripp Poplin
Pd
SC U
Gregg Williams
&
Mark Williams
Pd+BB
SC L
Ross Burns
&
Briggs Kennington
Pd+BB
VA W
Anthony McCraw
&
Penny McCraw
Ml/Fml
Pd
SC L
Thad Driggers
&
Walter Capps
Pd

2022 District 3 Championship on Murray-Day 2
-
10/01/22
RESULTS: |
View Multiday Day Results
|
Day 1
| Day 2 |
Place
Team
Members
# Fish
Big Fish
Gross
Penalty
Net Wt
Points


Watson & McFadden 25.44 lbs Champions


---



Anders & Anders 20.42 lbs


---



Sabbagha & Dowdy 20.39 lbs


---



McGraw & McGraw Highest Male/Female Team


---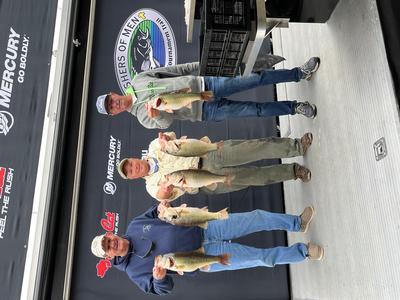 Watson & McFadden 25.44 lbs Champions

---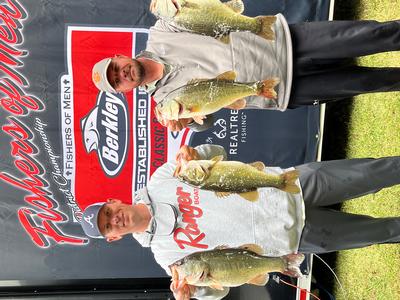 Anders & Anders 20.42 lbs

---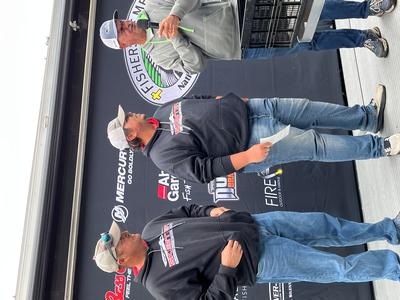 Sabbagha & Dowdy 20.39 lbs

---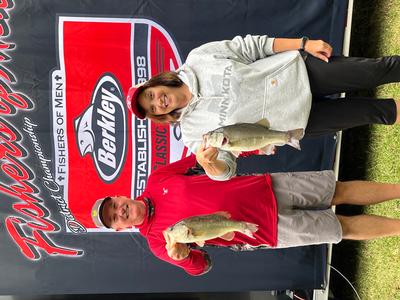 McGraw & McGraw Highest Male/Female Team

---